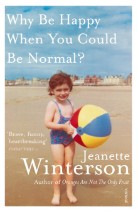 In 1985 Jeanette Winterson's first novel, Oranges Are Not the Only Fruit, was published. It was Jeanette's version of the story of a terraced house in Accrington, an adopted child, and the thwarted giantess Mrs Winterson. It was a cover story, a painful past written over and repainted. It was a story of survival.
This book is that story's the silent twin. It is full of hurt and humour and a fierce love of life. It is about the pursuit of happiness, about lessons in love, the search for a mother and a journey into madness and out again. It is generous, honest and true.
Borrow a copy from our school library learning commons and share your thoughts and feelings about the book below.
Use your first and last initials as your name and your sd61learn.ca email address to post comments.